Cognitive decline and brain iron deposition linked to moderate drinking
Neurodegeneration with brain iron deposition refers to a heterogenous group of neurodegenerative diseases, characterized by the accumulation of iron in different brain regions, such as the basal ganglia. Iron deposition in the brain causes a variety of diseases such as progressive dystonia, Alzheimer's, and Parkinson's.
According to a study published in PLOS Medicine, the consumption of seven or greater units of alcohol every week has been correlated with increased iron levels in the brain. Previous research has associated iron deposition in the brain with alcohol-related cognitive decline. Other studies have mentioned that men consuming thirty-six grams of alcohol per day experienced a rapid ten-year cognitive decline in all domains.
There is accumulating evidence for the adverse impacts of moderate alcohol consumption on the brain's health. In this new study, Anya Topiwala from the University of Oxford and collaborators found a correlation between brain iron levels and alcohol consumption. They selected all participants from the UK Biobank (20,965 individuals) who self-reported the amount of alcohol consumption. These participants underwent brain scanning using magnetic resonance imaging.
Approximately 7,000 participants underwent liver imaging using MRI to determine systemic iron levels. In addition, all participants were required to complete a sequence of simple examinations to evaluate their motor and cognitive function.
The mean age of these participants was fifty-five years, 48.6% were women. The researchers identified 2.7% of the participants as non-drinkers based on self-reports. On average, the participants consumed 18 units of alcohol per week, which accounted for roughly six large glasses of wine or seven and a half beer cans.
Topiwala and her team identified that the consumption of more than seven units of alcohol per week was related to higher iron markers in the basal ganglia. The basal ganglia correlates predominantly with cognition, controlling motor movements, emotion, and eye movement. However, alcohol consumption was related to lesser iron levels in the thalamus (the region of the brain that controls wakefulness, sleep, consciousness, learning, and memory). Iron deposition in particular brain regions (putamen, caudate nucleus, and substantia nigra) was related to poor cognitive function.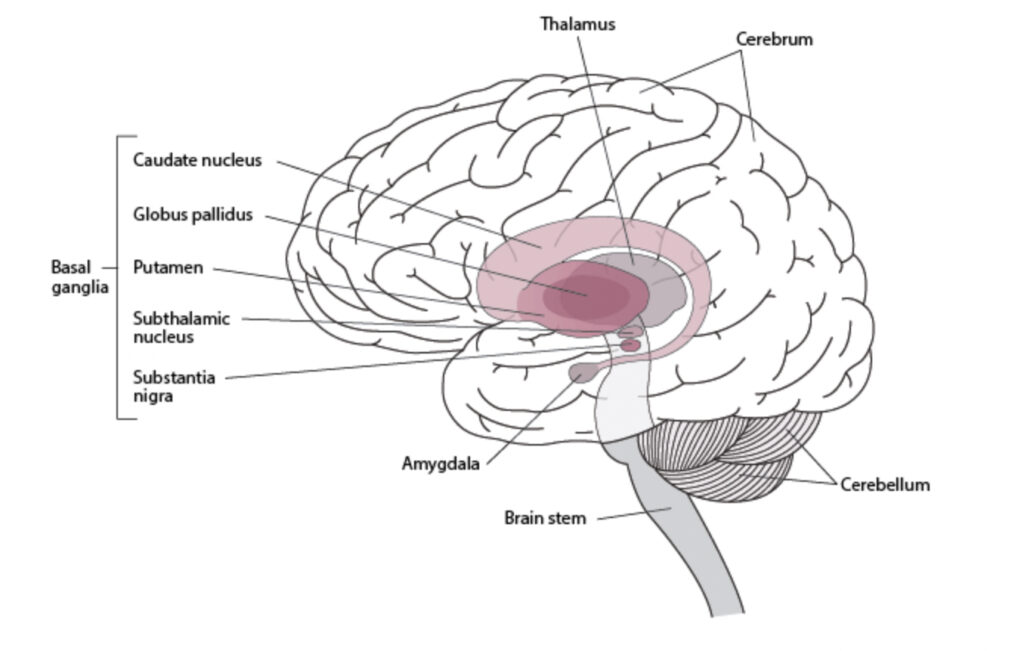 The researchers completed the largest study on iron accumulation and moderate alcohol consumption. Interestingly, drinking behavior was self-reported by the participants and could have been underestimated during data collection. However, this method was considered the only reasonable technique to determine the alcohol intake of the large research cohort. 
Taking into consideration the occurrence of moderate drinking (4 to 14 drinks per week), a small correlation can exert a substantial influence across large populations. In addition, the findings could facilitate the development of interventions to reduce alcohol consumption in the general public.
References
Dufour, M. C. (1999). What is moderate drinking?: Defining "drinks" and drinking levels. Alcohol Research & Health, 23(1), 5. PMID: 10890793
Ward, R. J., & Crichton, R. R. (2019). Ironing out the Brain. Met Ions Life Sci, 19, 9783110527872-010.
The Cognitive Consequences Of Alcohol Use. (2016, October). Practical Neurology. Retrieved July 12, 2021, from https://practicalneurology.com/articles/2016-oct/the-cognitive-consequences-of-alcohol-use
Topiwala, A., Wang, C., Ebmeier, K., Burgess, S., Bell, S., Levey, D. F., … & Nichols, T. E. (2022). Associations between moderate alcohol consumption, brain iron, and cognition in UK Biobank participants: Observational and Mendelian randomization analyses. PLoS Med 19(7): e1004039. https://doi.org/10.1371/journal.pmed.1004039
MSD Manuals. (2022). Figure: Locating the Basal Ganglia. MSD Manual Consumer Version. Retrieved July 12, 2022, from https://www.msdmanuals.com/en-gb/home/multimedia/figure/locating-the-basal-ganglia