During spacewalks, the last thing you need is legs: you only need a very skilled arm along with a brain, and eyes. For this reason, the European Space Agency has created an intelligent robotic arm to work shoulder to shoulder with the astronauts outside of the International Space Station. 
Spacewalks are not just outings to take in the spectacular view: they are needed to maintain and update the station. Although astronauts enjoy those unique moments, which not many people have been lucky to experience, spacewalks are hard, risky, and sometimes even inefficient because of the outfit astronauts need to wear.
An intelligent and skilled space arm
To understand precisely what requires to be operated during spacewalks, scientists and engineers at ESA and the Dutch company Fokker technologies designed ERA: European Robotic Arm. Equipped with one elbow, two wrists, four eyes, and a brain, it will anchor itself outside the station and stretch and contract in a worm-like fashion. Although it is a robust machine—almost as long as an eighteen-wheeler lorry—its "hands" will perform fine motor tasks.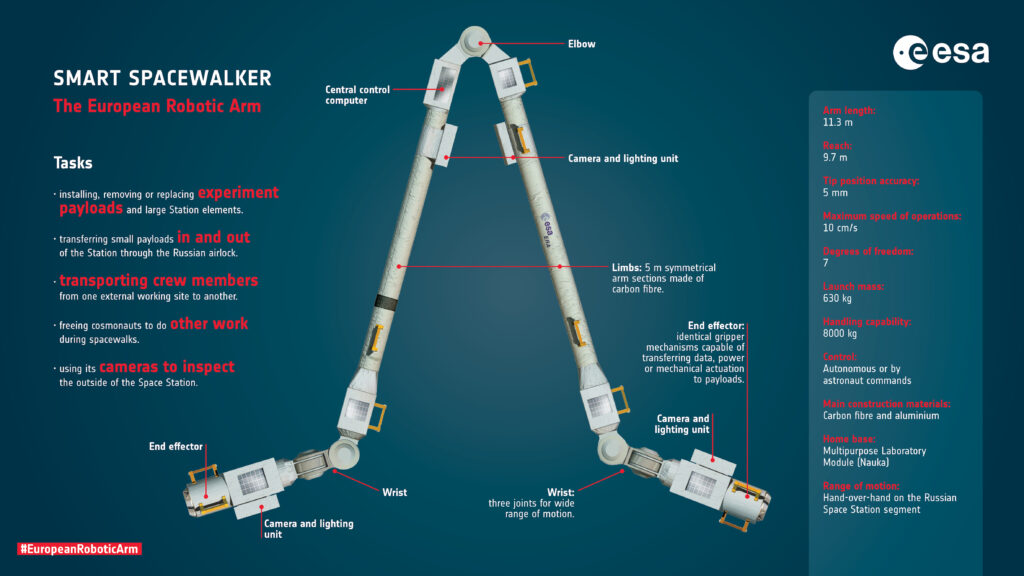 ERA's multiple infrared cameras will offer a bird's eye view while performing fast and complicated movements and, at the same time, obtaining close-up footage.
But why infrared light eyes and not visible light ones like the human vision?
Matter emits radiation but, most of the time, objects are cold and can only emit in the infrared. Sources of visible light must be very hot or reflecting light from other sources. Infrared eyes will let the robot construct a temperature map of the station's surface, even on dark sides, hidden from the sun.  
ERA will operate either completely autonomously, closely supervised by astronauts, or will be entirely remotely controlled. It has a brain, which means that it will learn from its experience once it starts working in space.
Besides its superhuman senses, it will transfer payloads and bring flesh-and-blood spacewalkers around like a cherry-picking space crane.
A entirely new space lab with an arm
ERA won't be the first robotic arm operating at the ISSInternational Space Station. The Canadian and Japanese modules already have robotic arms to help dock vehicles coming from Earth. While the Russian segment never needed such assistance, since the Soyuz capsule docked itself, a research module upgrade has long been expected.
Together with the European robotic arm, the Russian space agency Roscosmos will launch an entirely new Russian multipurpose lab module named Nauka. Nauka, which means "science" in Russian, will become the primary laboratory on the Russian segment.
Although mainly built for scientific research, it will also serve as a crew quarters, help with navigation, and power the station using solar energy. 
Nauka has been eagerly awaited since 2007. After a series of technical challenges, it finally arrived at Baikonur Cosmodrome in Kazakhstan. According to the last announcement, it is set to be launched on the 21st of July at 16:58 Central European Summer Time on a Proton-M rocket. The launch can be followed live with ESA Web TV and Roscosmos.
If everything eventually falls in place, it will dock at the old Zvezda module port at the ISS a few hours after its launch.
Astronauts can't wait to enjoy their new module and operate their new smart gadget ERA. It represents a further step in human conquests of space with the aid of machines.
Read more
European Robotic Arm. (2021). The International Space Station's Latest Upgrade, ESA Brochure.
European Robotic Arm. The European Space Agency, Science & Exploration site.  
Proton-M space rocket assembly underway at Baikonur. (July 14th, 2021). Roscosmos news.
Appendix: ESA video

Illustration by Dana Dumea